KITCHEN FURNITURE
Stylish and practical kitchen is probably one of the most important places at home – it is the place where we not only work, but also rest. Interior design specialists claim that proper selection of kitchen furniture creates general atmosphere at home and influences style choices.
It is necessary to assess two key indicators: the stylistic solidarity of living space and functionality of kitchen furniture when designing a brand new or renewing the old kitchen interior. First of all, you have to decide which furniture style will dominate in the living space. Unlimited possibilities of furniture manufacturers allow us to implement unique ideas regardless of whether you are into classics or modernism. To experience maximum comfort in the kitchen it is necessary to plan in advance where and what kind of furniture will be placed; also, which functional characteristics will they have.
---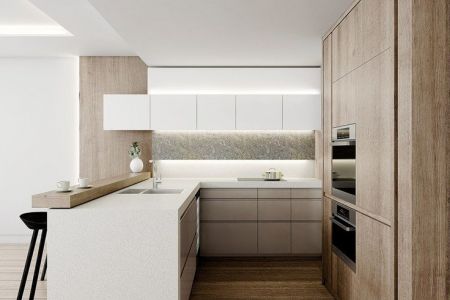 MANUFACTURE OF KITCHEN FURNITURE
If you want to enjoy maximum comfort in the kitchen, impose the biggest requirements on the quality and style of furniture. Manufacture of kitchen furniture according to individual customer's needs allow us to make your dream home vision possible: properly selected kitchen furniture may essentially change the face of your home, give it more elegance and comfort.
Practise shows that the kitchen is one of the most often visited and used rooms, constantly affected by temperature changes and humidity. If you want your furniture to last and serve you for many years choose high quality materials and reliable design solutions. If you have any doubts regarding your choice, consult the qualified specialists of Baldita.
---
---
MANUFACTURE OF NON-STANDARD KITCHEN FURNITURE: 3 MAIN QUESTIONS
Experienced BALDITA specialists will design and manufacture kitchen furniture according to the individual customer needs taking into account living space dimensions, chosen style and customer's financial capabilities. Kitchen furniture designs are prepared paying close attention to details. If needed, the specialists of BALDITA will present you a scheme of electric installation and make conclusions of data necessary for the manufacture of furniture. To avoid mistakes and ensure highest quality of furniture, answer the following three questions:
IS IT WORTH TO INVEST IN THE MANUFACTURE OF FURNITURE?

Custom made kitchen furniture will be adjusted to specific architectural decisions and allow you to realize the most innovative design ideas. The manufacture of furniture is one of the optimal choices while planning the design of a small or exceptionally spacious kitchen interior. Even though this decision is more costly, custom made furniture can be distinguished by high quality and ensure long lasting and reliable exploitation.

WHICH KITCHEN STYLE IS RIGHT FOR YOU?

The interior of a kitchen requires special attention and purposeful design solutions. Just think beforehand which style do you prefer: would you like to look for modern furniture or go back to ageless classics? Evaluate the exceptionally broad range of colours, too. For small kitchens we recommend brighter tones which visually make the home space bigger. For larger rooms we advise you to choose darker, more luxurious kitchen furniture. We are not limited to design solutions, we can offer you both economic and exclusive models of kitchen furniture.

HOW TO PURCHASE HIGH QUALITY KITCHEN FURNITURE?

To enjoy your furniture for many years, pay the most attention to their quality. Choose reliable materials and professionals having many years of experience. We want to remind you that poor quality furniture will lose their appearances, start peeling or squeaking. After a couple of years tables warp, cabinets hardly close and drawers do not shut. And, on the contrary, if you invest in high quality products long term exploitation and use will be guaranteed.