HALLWAY FURNITURE
The first impression of home is formed as soon as we enter the hallway; therefore, this room should be not only functional but also aesthetically pleasing. Stylish, practical and comfortable hallway furniture creates the first impression of home. Moreover, hallway furniture play an important functional role as we store our coats, shoes, umbrellas, handbags and other outdoor things here.
It is important to plan the furniture rationally to be able to store a wide range of different things: from the small ones, such as keys or gloves, to the outdoor clothes with take a lot of space. Hallway furniture is one of the most actively used furniture of the living space, therefore they have to comply with the highest requirements of quality and longevity.
---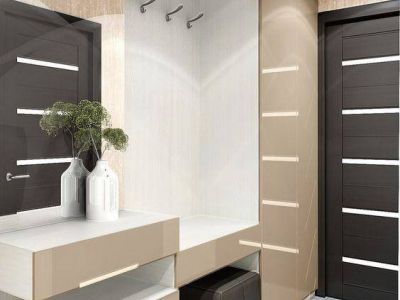 MANUFACTURE OF HALLWAY FURNITURE
We design and manufacture hallway furniture according to individual orders. Depending on the situation the manufacture of hallway furniture may be limited to only several pieces of furniture which will be adapted to the interior of your home or may cover the whole hallway giving you a set of hallway furniture – wardrobes, chests of drawers, hangers, hallstands, shoe closets and other furniture. As the hallway creates the first impression of home, the most attention is paid to the aesthetics of its furniture. Hallway furniture is made of high quality materials and designed according to individual choice of colours, forms and layout. We offer hallway furniture projects for both small dimension and exceptionally spacious rooms.
---